Spring Salad With Dried Cranberries, Pistachios and Olives
Linky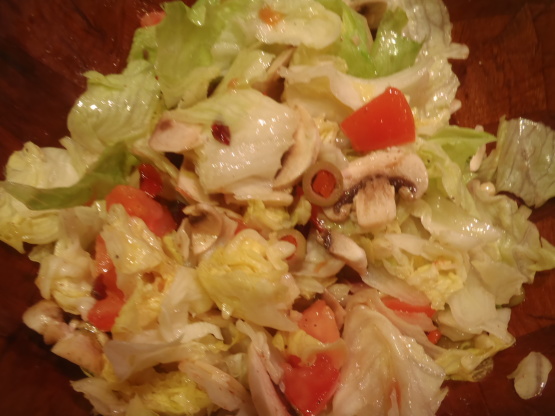 This is what I came up with today. You can use any nut in place of the pistachios, but I found the taste of the raw pistachios very pleasant in this combonation. Also you can use any kind of green leaf salad. For the olives I used green olives stuffed with almonds. Cooking time actually is part of the preparation time because there is no cooking ...

Top Review by awalde
My son said that this is a very special salad! We all liked it very much! Instead of lettuche I used young sald leaves and I reserved the some cherry tomatoes (instead of normal tomatoes) and olives for decoration. The flavor was fantastick and the cranberries + pistachio gave a wonderful texture. Thanks Mia for this great recipe
Combine honey, cider vinegar, lemon juice, cumin, salt and pepper until smooth.
Add oils and stir until completely emulsified.
Finely chop olives.
Cut avocado and tomatoes into small cubes, add to the dressing, then add shredded lettuce (or whatever green you use).
Add chopped olives, pistachios and cranberries and mix well.
Serve and enjoy!