Spring Salad With Chive Blossom Dressing
Derf2440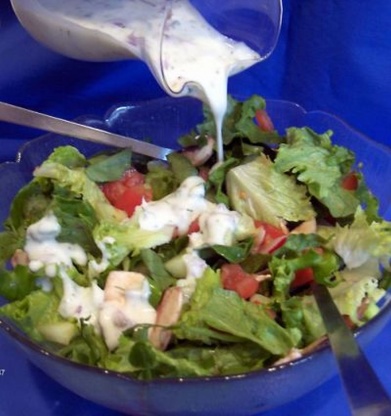 The chive blossoms taste quite oniony and add a lot of taste to the dressing and are also nice added to the salad greens. Love spring with all the fresh new salad makings!!

Crisp, vibrant and springy. I also subbed a half mayo for the plain yogurt and since I like my salad dressings on the more pourable side, I thinned it with a little bit of half and half cream. Substituted red bell pepper for tomatoes (supermarket toms are horrible this time of year) and omitted the mushrooms because I much prefer them cooked. Fresh chive blossoms from the garden and I added a few of the petals to the dressing. Thanks for posting! Reviewed for Herb &Spice of the Month: Chives in the French Forum.
Chive Blossom Dressing

3⁄4 cup plain fat-free yogurt

1

tablespoon olive oil

2

tablespoons chives, finely snipped

1

garlic clove, smashed

2

tablespoons lemon juice

1

teaspoon lemon zest
1⁄8 teaspoon salt
1⁄4 teaspoon pepper, fresh ground

3 -4

chive blossoms, pulled apart

The Salad

1

cup lettuce, leaf type, torn small

1

cup watercress leaf

1

large mushroom, sliced thinly

1

tomatoes, cubed

6

snap peas, cut in thirds

2

large red radishes, thinly sliced
1⁄4 cup cucumber, peeled and diced

3

spring onions, chopped
1⁄4 teaspoon sea salt
1⁄4 teaspoon pepper, fresh ground

3 -4

chive blossoms (to garnish) (optional)
Chive Blossom Dressing:.
In a small bowl, whisk together all dressing ingredients except chive blossoms.
Sprinkle chive blossom pieces on top of dressing.
Spring Salad:.
Layer all ingredients in a salad bowl, starting with the lettuce and watercress.
Season layers to taste.
Pour desired amount of chive blossom dressing over.
Toss lightly and garnish with full chive blossoms if desired.