Spring Rolls, Sweet and Spicy
IngridH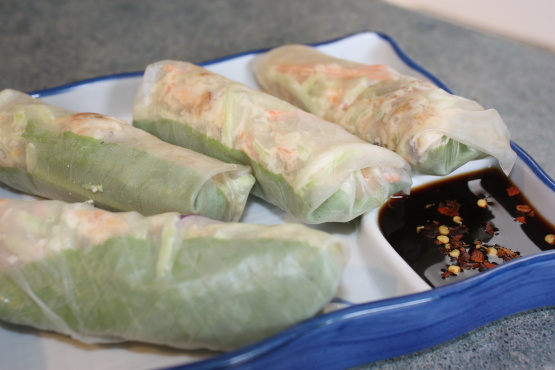 With the inclusion of fiery Japanese wasabi for spicy and coconut for sweet, these are something else again! Recipe found in Better Homes and Gardens' Fresh and Simple Vegetable Dinners cookbook(let)!

What an awesome way to get your veggies! These had amazing texture and flavor- crunchy from the lettuce and slaw, spicy and tart from the wasabi and lime juice! Oh yum! I had 6 inch wrappers on hand, and used 4 of them to roll 1/2 a batch of filling. I had a bit of filling left, but not quite enough to make a 5th roll. Instead of tofu (which I didn't have on hand) I used an equivalent weight of smoked salmon, which went beautifully with the other ingredients. Like another reviewer, I increased the lime juice, but that's just personal preference in how tart I like my dressing. I would make these again in a heartbeat- they are a perfect lunch on a hot day.
FOR SPRING ROLLS ~ Carefully dip each rice paper quickly in water & place between paper towels or clean cotton dish towels, then set aside for 10 minutes.
Meanwhile, in a small bowl combine ginger, wasabi paste & lime juice, then stir in mayonnaise dressing.
In a large bowl toss together shredded broccoli, tofu & coconut.
Add ginger mixture & toss to coat.
Line each rice paper with a lettuce leaf.
Spoon broccoli mixture over lettuce, then wrap rice paper around broccoli mixture.
FOR DIPPING SAUCE ~ Stir together the 3 sauce ingredients.
Serve spring rolls with sauce on the side.