Spring Mix Salad With Pomegranate, Honey Dressing and Toasted P
IngridH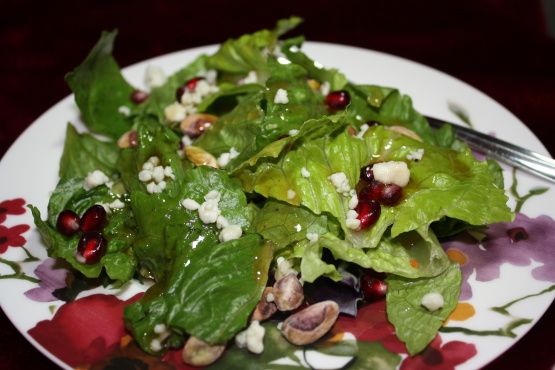 This is a pretty recipe. The pomegranate is a beautiful tropical fruit with seeds that are crunchy and help give texture to the whole salad experience. You can change the dressing to your liking, but make sure you use a ratio of 1:3 acid to fat.

We just loved this salad, but I made a whole lot of changes to the recipe. First, I used raspberry vinegar instead of red wine vinegar, cut the oil down to a 2:1 ratio, and omitted the sugar. I used a romaine blend instead of spring greens (had it on hand), and added crumbled Gorgonzola cheese. Definitely a salad that will be made again!
Sort through the spring mix salad greens and clean out any leaves that are not completely fresh.
Mix all ingredients except pomegranate seeds and nuts in a jar or the container of a blender.
Whirl until smooth.
Place in refrigerator until needed.
Just before service, drizzle salad with dressing and arrange on a plate with pomegranate seeds and ground pistachios sprinkled all over.