Spring Has Sprung Salmon With Asparagus
Irmgard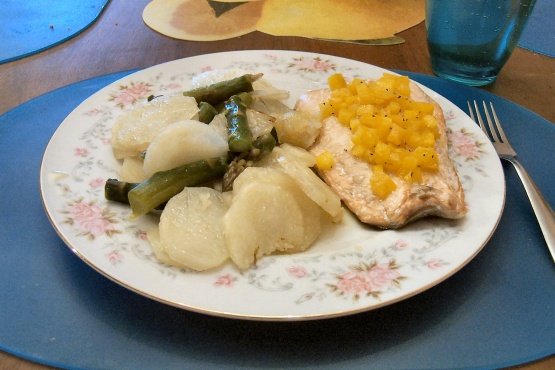 Green asparagus, pink salmon, creamy new potatoes, bright orange bell peppers. Spring doesn't get any better than this!
We didn't change much on this recipe and liked it a lot. I did use lemon pepper when seasoning the potatoes and asparagus. I didn't really like the bell pepper in the relish; I ended-up using the liquid to pour over the salmon (which was a whole fillet) before baking. It really had a wonderful flavor and really enjoyed it. Don't know why the bell peppers didn't agree with me...I really do like them a lot. I'll likely make this again in the same manner. Thanks for a great recipe!
Pre-heat the oven to 425 degrees.
In a skillet, toss the potatoes, asparagus, oil and salt.
Place in the oven and roast for about 15 minutes.
Meanwhile, in a single layer on a nonstick baking sheet or large ovenproof skillet, arrange the salmon in single layer.
Sprinkle the salmon with the salt.
Place the pan in the oven and roast for 10 minutes or until done.
In small bowl, stir together the orange juice, orange zest, honey, vinegar and orange bell pepper.
Season with salt and pepper.
Place salmon and vegetables on a plate and top the salmon with the relish.