Spring Chicken and Biscuits
Deantini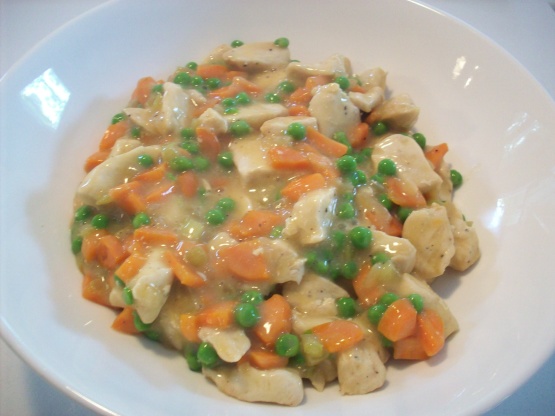 This recipe caught my eye because it has lots of healthy vegetables, and also biscuits -- which my son and husband can't get enough of!

This is a very good basic recipe for those every day comfort meals. I opted not to serve it with biscuits but instead served it with Recipe #375531 and some Recipe #362338. But I am sure it would be delish with the biscuits as well. The photo is without the biscuit. Made for 'Went to the market'.
Preheat oven to 450°. In medium bowl, mix baking mix and 1/3 cup milk until just combined. Onto ungreased cookie sheet, drop biscuit dough to make 4 even mounds. Bake biscuits 10 minutes or until golden brown.
Meanwhile, with meat mallet, pound chicken (placed between 2 sheets plastic wrap) to an even 1/2-inch thickness; cut chicken into 1/2-inch chunks and season with 1/4 teaspoon salt and 1/4 teaspoon freshly ground black pepper.
In 12-inch skillet, heat 2 teaspoons oil on medium-high until hot. Add chicken and cook 6-7 minutes or until no longer pink inside, stirring occasionally. Transfer chicken to a bowl.
To same skillet add remaining 3 teaspoons oil; reduce heat to medium. Add carrots, onion and celery, and cook 8 minutes or until vegetables are tender, stirring occasionally. Add broth and heat to boiling on medium-high. In a cup stir cornstarch into 1/2 cup milk and add to skillet. Heat to boiling on medium-high heat. Boil 1 minute, stirring. Remove from heat; stir in peas, dill, lemon juice, 1/4 teaspoon salt, and chicken.
To serve, spoon chicken and vegetable mixture into 4 shallow dinner bowls. Top each bowl with a biscuit; garnish with dill sprigs.