Spring Asparagus Angel Hair Pasta
loof751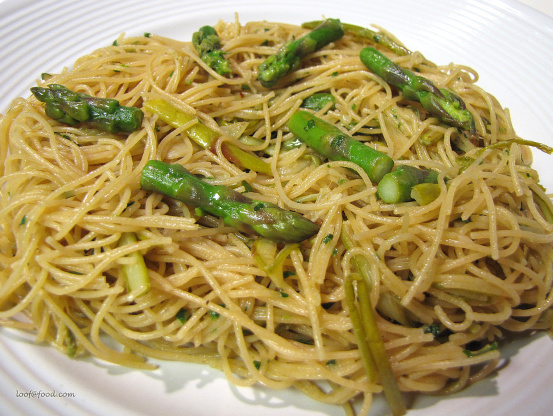 Another recipe for a not so local Farmers' Market here in our state. Wish I could go to it every Saturday. I've not tried this but don't want to misplace the recipe.

Great fresh pasta recipe! The lemon juice really brightened this up. I liked the idea of slicing and sauteing the asparagus spears in addition to adding the tips. Used parsley instead of chives, otherwise made as directed. Thanks for sharing the recipe!
Rinse the asparagus and remove the bottom inch of the stem.
Cut the tips into 2 inch pieces.
Cut the remaining piece julienned.
Set the asparagus aside.
Bring a large pot of water to a boil, add salt.
In a large nonstick skillet, saute the garlic, shallots and red pepper flakes in olive oil, until tender but not browned.
Add the lemon juice and reduce by half.
Drop the pasta and the asparagus tips into the boiling water.
Cook until the pasta is ala dente, about 3 - 4 minutes.
Drain for a few minutes and add to the pan.
While the pasta is cooking add the remaining asparagus to the pan with the shallots and saute until they begin to wilt.
Toss in the chives, the pasta and cook until the remaining water has evaporated.
Season with salt and freshly ground pepper.
Remove from heat and add the Parmesan cheese.
Serve immediately.
(When I make this a second time, I'm going to add a little lemon zest in step 7).