Sport and Misty's Horse Cookies
RogerOH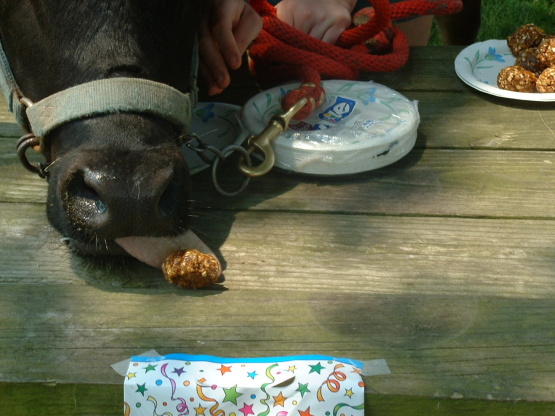 These cookies your horse will love. I've made them for the pickiest horses and they have loved them. I'm sure if you make them your horse will love them too.

We've made these several times at horse camp. I just give each camper a gallon size plastic bag and put 1/4 of each ingredient in each bag. Then the campers squish the mixture around until it resembles cookie dough (with carrots...) Then they divide the mixture into treat-size rounds on individual tin foil "trays" and we bake them. I've even had campers make a molasses-free version (with maybe a little extra water to make up for the omission) for the horse with a molasses allergy. The horses LOVE them! Some of the campers seem to enjoy them as well! :)
1

cup flour

1

cup of shredded carrot

1

teaspoon salt
1 1⁄2 tablespoons sugar

2

tablespoons vegetable oil
1⁄4 cup water
1⁄4 cup molasses (or mix two teaspoons of sugar to every five teaspoons of pancake syrup and stir in)
Mix all ingredients in bowl in order listed.
Make small or medium size balls out of mixture and place on a greased cookie sheet sprayed with Pam.
For extra happy horses you can sprinkle a little bit of honey on them before cooking.
Bake 350°F for 15-20 minutes and make sure they don't burn!