Hey Jude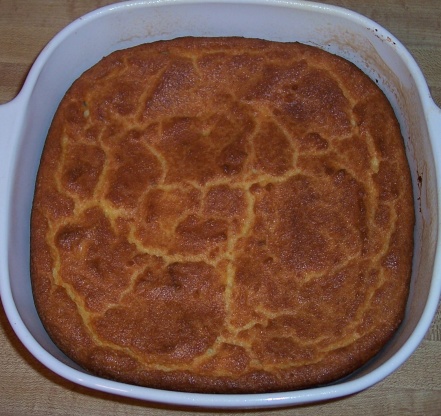 I have been making this spoon bread for years. My kids loved it when they were at home. The recipe is over 100 years old. It makes a good side dish. Add 1/2 cup of sugar or honey to turn it into an old fashion dessert.

I'd never tried spoon bread till tonight and I like it, so does my family! I used Lactaid milk for the sweet milk (we're lactose intolerant around here) and made the rest as is. This smells wonderful while baking....we had it with brisket and carrots. Very nice meal. Thanks for posting this Barb :)
Preheat oven to 375 degrees.
Scald milk (do not boil).
Stir in butter, cornmeal and salt.
Cook stirring constantly.
Until cornmeal comes away from sides of pan and thickens.
Set aside to cool to lukewarm.
Add beaten egg yolks.
Mix throughly.
Fold in stiffly beaten egg whites.
Mix gently but throughly.
Pour into greased and floured 2-quart baking dish.
Bake 1 hour or until top is golden brown.
Serve immediately.