momaphet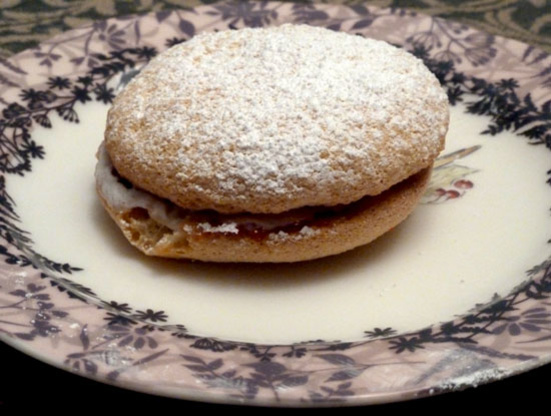 Over Christmas all the cooks in my family started writing down recipes. This was one of my childhood favourites. Be sure to fill the cakes at least 2 hours before serving so they are nice and soft. You can make them more grownup by omitting the vanilla and jam and mix 1/2 cup of raspberries and 2 tsp liqueur into the cream
This was very good but a bit unusual. I was surprised how much corn flavor there was to the cakes, they reminded me of Corn puffs cereal. I cut the recipe to 1/4 and got 3 good sized.
The only problem I had was much of the cream absorbed into the cake while waiting for them to get soft, so after taking it's picture I opend up my kiss and added more. made for Best of 2010 tag
Heat the oven to 200°C Line a baking tray with baking paper.
In a bowl double sift the flours, cream of tartar, baking soda. Set aside.
Divide the sugar into 4 parts. Separate the eggs and place the whites in a large bowl and beat to soft peaks.
With beaters rotating add a 1/4 of the sugar add beat until glossy. Repeat with remaining sugar. Whisk in the egg yolks one at a time.
Sift the dry ingredients one last time over the egg mix. Fold in gently until just incorporated.
Drop heaped teaspoonful onto the baking sheets, leaving room between so they can spread. Bake until lightly golden, 5 to 7 minutes. Remove to a rack to cool.
Whip cream with sugar then add vanilla. Spread half the cakes with jam and cream then top with a cake.
Set aside for 2 hours. When ready to serve sprinkle with icing sugar.