diner524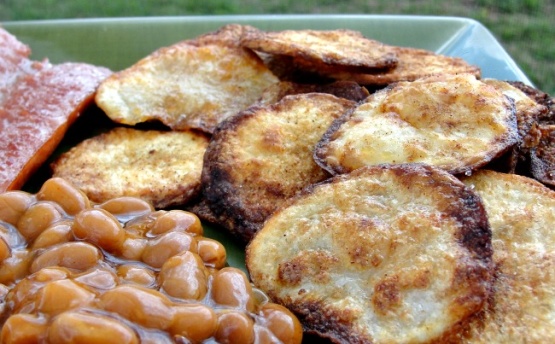 This is from the cookbook called "Patio Daddy-O" 50's recipes with a 90's twist...it says we dare you to eat just one of these rounds...(sounds like another store bought chip)...anyway they say...they're hot and salty, crisp and crunchy, and absolutely irresistible...I made a test run on these chips and did change a few things in the recipe...the temperature and the cooking time...I posted a photo of my before change...they are the chips in the blue bowl...:)
OMG!! These are so easy and, like it says, you can't eat just one!! I made this for one so I just used a medium red skinned potato(that I used a mandolin to slice it), melted butter in a bowl in the microwave. I dipped the slices in the butter and added them to a preheated cast iron griddle. I then sprinkled them with sea salt and the paprika and baked them to pure crispy goodness!!! I had mine with smoked sausage and beans!! Thanks for sharing the recipe. Made for FYC tag game!
Preheat an oven to 350°F.
Line 2 baking sheets with aluminum foil.
Place 3 tablespoon of the butter on each baking sheet and place them in the oven briefly to melt the butter.
Thinly slice the potatoes crosswise.
Dip both sides of each slice in the melted butter and place on the baking sheets in a single layer.
Lightly sprinkle the potatoes with salt and paprika.
Bake for 25 to 30 minutes, or until crisp and golden brown.
Rotate the pans on the oven shelves midway through baking to ensure even cooking.