Split Pea Soup, Vegetarian, Easy
Brenda.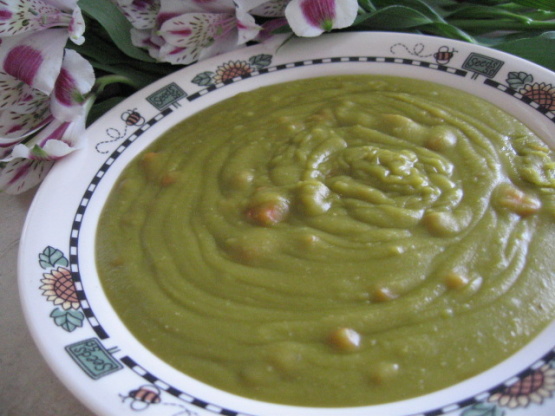 This soup is so fresh and clean tasting, I know you will love it. This is my original recipe.

Delicious, easy ,and very economical. I did not miss the ham at all. I sauteed my onions right in my soup kettle, added the broth until it boiled and then added the peas. I covered for about 50 minutes stirring occasionally and adding a little broth here and there as needed. 1 hour was right on to soften the peas perfectly. I did end up using about 3 1/2 cans vegetable broth total to keep the consistancy thick and creamy as suggested. I used an emmersion blender right in the soup kettle to puree the soup and it worked out nicely. While the soup cooked, I peeled and cut the carrots into 3 inch pieces and microwaved on high for 10 minutes before dicing into small pieces. Save any left over broth you may have as pea soup likes to thicken as it cools and you can thin it out as needed with the left over broth. My total cost was only 5 dollars. (If I would have had vegetable broth frozen, it would have been about 1 dollar). We served the soup with a tiny dollop of fat free sour cream. Absolutely perfect. Thanks so much for sharing. *Made for PAC Spring 2010*
Rinse and pick through peas to remove any unpleasant bits.
Bring 2 cans vegetable broth to boil in large saucepan.
Meanwhile, sauté onion in butter until just translucent, not soft.
Add split peas and cooked onion to broth. Cook about 1 hour till peas are very tender, adding more vegetable broth as needed. You do not want too much broth.
In a separate pan, cook carrots in water till tender. Chop into fine pieces.
When split pea mixture is soft, purée in a blender or food processor till it is creamy and smooth.
Return to pan and add finely chopped carrots.
Heat through and serve. Soup should be very thick and creamy.