Annacia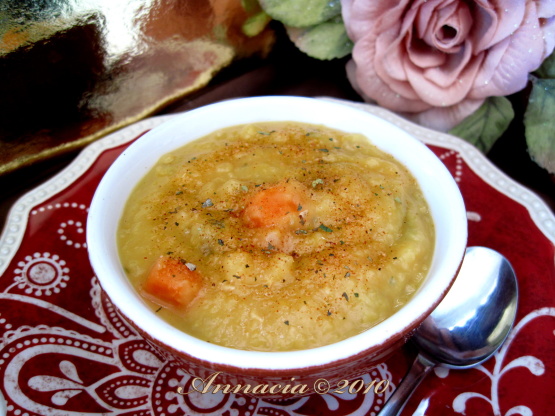 This one is simple and inexpensive. My husband liked it a lot. He walked in while it was cooking and said, "Mmm". Normally, he would not touch split pea soup. It's practically vegetarian too--no bacon or ham hocks to touch--and yet still tastes great. Biscuits go really well with this. In fact, I think you need them to make a filling meal.

This soup is incredibly simple to make. I love recipes where u can throw it all in a pot and let it go! I added sliced smoke turkey sausage to mine, some cajun seasoning and a couple splashes of tabasco for a little kick. Being from louisiana, we like it hot! Came out incredibly good, and love that you can have a second bowl without the guilt.
Sort and wash peas. Put them and everything else in a large pot.
Bring to a boil, then lower heat and simmer for two hours, stirring often.
Remove bay leaf before serving. A very little salt or salt substitute enhances the flavor.