Split Decision (Oatnanaberry) Muffins.
CoffeeB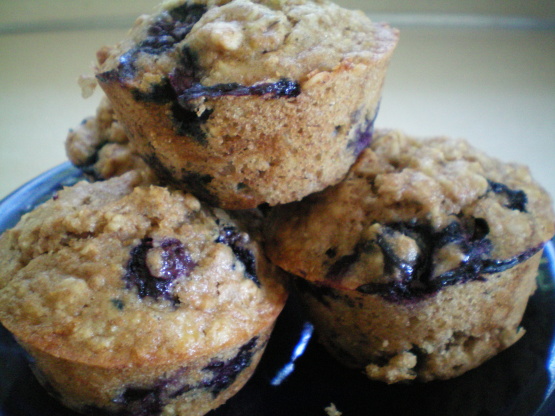 Looking for a healthy, convenient breakfast? Muffins are a natural choice, but what kind of muffins? Oat muffins? Banana Muffins? Blueberry muffins? Why not all three, an oatnanaberry muffin! This is the perfect recipe when you want all three of the best muffin flavors.

These really should be 4 1/2 stars, but that is how I feel about them. I think it would have made the muffins even more moist if there was another banana in them, but otherwise a tasty and guilt free pleasure.
Preheat oven to 350, and lightly oil a muffin tin.
Mix milk and oats, set aside while you prep the rest of the batter.
Sift together flour, baking powder, baking soda, and salt.
Thoroughly mash and pulverize the banana, and add to oats.
Add oil, egg whites, sugar, and vanilla to oat mixture.
Add the oat mixture to the dry mixture, and stir gently. Do not overmix.
Gently fold in blueberries.
Divide muffin batter into muffin tin cups.
Top with more oats and blueberries, if desired.
Bake about 15 minutes, or until a cake tester or toothpick inserted in the center of a muffin comes out clean.
Enjoy your breakfast!