Splendid Raspberry Spinach Salad
kindcook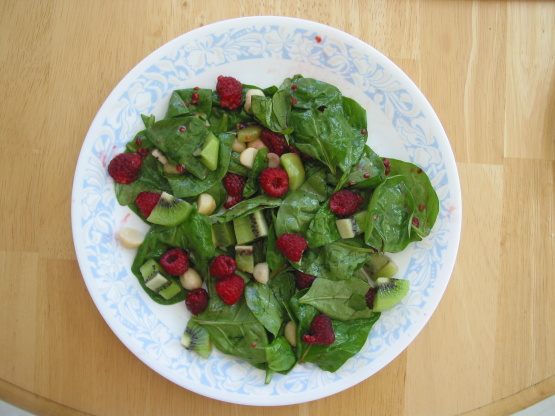 I found this on-line sounds Yummy Valentiny!!

Of course the salad was delicious with all those good ingredients. I did sprinkle parmesan cheese on top and used toasted almods. Next time I'm going to try it with walnuts. The dressing whisked into an creamy emultion nicely and would be quite delicious on most fruit salads. I will make this again, as it was so easy and few ingredients which I keep on hand.
2

tablespoons raspberry vinegar

2

tablespoons raspberry jam
1⁄3 cup vegetable oil

8

cups spinach, rinsed,stemmed and torn into pieces
3⁄4 cup coarsely chopped macadamia nuts or 3⁄4 cup toasted sliced almonds

1

cup fresh raspberry

3

kiwi fruits, peeled and sliced
Dressing: Combine vinegar and jam in blender or small bowl.
Add oil in thin stream, blending well.
Toss spinach with 1/2 of the nuts, 1/2 of the raspberries, 1/2 of the kiwi's and the dressing.
Top with the remaining ingredients (nuts, raspberries and kiwis.) Serve immediately.