Splenda Walnut Date Oatmeal
loof751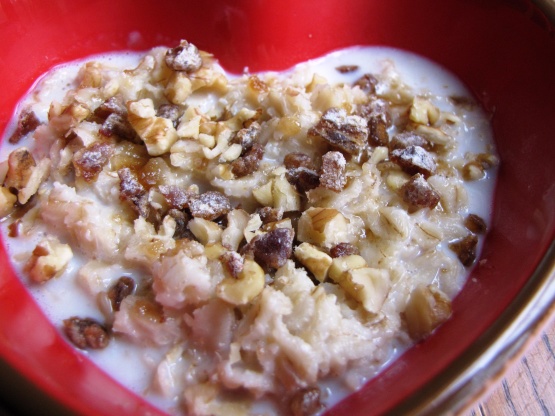 This is wonderful on a cold morning.

Delicious oatmeal for a great breakfast! I used 1/2 water, 1/2 milk to cook the oatmeal so I didn't top it with the 1T additional milk. Dates and walnuts are such a great combination and are perfect with oatmeal. Thanks for posting this treat! Made for My 3 Chefs November 2008
236.59

ml water

118.29

ml old fashioned oats

0.25

ml salt

9.85

ml Splenda brown sugar blend

14.79

ml chopped dates

14.79

ml chopped toasted walnuts

14.79

ml skim milk (for creamier oatmeal, substitute skim milk for water, proceed as directed)
Bring water to a boil in a small saucepan.
Stir in oats and salt.
Cook, stirring occasionally, over medium heat 5 minutes.
Sprinkle 2 teaspoons SPLENDA® Brand Brown Sugar Blend, 1 tablespoon chopped dates, and 1 tablespoon chopped toasted walnuts over hot cooked oatmeal.
Drizzle with 1 tablespoon skim milk.
Microwave Directions.
Combine water, oats, and salt in a microwave-safe bowl.
Cover tightly with heavy-duty plastic wrap; fold back a small edge to allow steam to escape.
Microwave on HIGH 2 1/2 to 3 minutes; stir before serving.