Splenda Strawberry Blueberry Smoothie

I had some strawberries that were very ripe and a bit mushy, so I decided to place them in the blender to make a quick fruity smoothie for lunch. Delicious! *Note: Cooking time is Blending time.
Directions
Place all ingredients in blender and blend for 1 minute, and then press the liquify button for another minute or until mixture is the consistency you like.
Enjoy.
Reviews
Most Helpful
Great smoothie! I'm always on the lookout for dairy-free smoothie recipes for my daughter. She really enjoyed this. Thanks!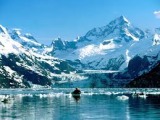 Delicious! I used fresh local strawberries and fresh local blueberries. I added about 1/2 teaspoon of raw agave. If you don't have orange juice on hand, you could substitute a mixture of freshly squeezed citrus juice-grapefruit, lime, etc. Reviewed for NA*ME tag/Summer and Veg Tag/August. PS I think the the serving is off. I used 4 strawberries and about 1/2 cup of blueberries.;)

Spectacular - and needing no sweetner when made with fresh squeezed orange juice from organic oranges, and fresh and ripe organic strawberries and blueberries! Tasted like summer - thanks, Acadia! Made for my chosen chef for Veggie Swap March 2011.