Spitzbuben (Swiss Jam Cookies)
A2471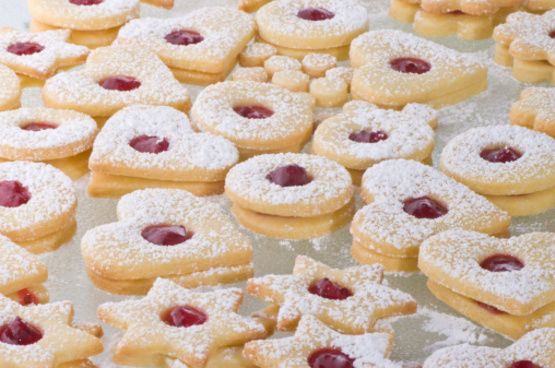 Delicious Swiss jam cookies our family makes for Christmas. My father is from Switzerland, so I grew up with these yummy cookies. I apologize if the time and yield are slightly off; I generally make 2-4 batches at a time, so it takes an entire evening!

I'm made many different kinds of cookies in my time, but I'm sure this was a new experience for me, AND a very enjoyable one, at that! I was so pleased with myself that I was tempted to keep them all here for the 2 of us, but broke down & sent 2/3 of them off with my other half to share at one of my weekly meetings! I did have a small problem with the jam, since I usually think of it as 'chunky,' but with a little processing, I managed to have a strawberry jam that worked for me! Thanks for posting this wonderful recipe ~ Your cookies are a real delight! [Made & reviewed for one of my adopted chefs in this Spring's Pick A Chef event]
1

cup sugar
1 1⁄4 cups butter (or margarine)
2 1⁄4 cups ground blanched almonds (may be called almond meal at the store)

2

teaspoons vanilla flavoring
3 1⁄4 cups sifted all-purpose flour
fruit jam (flavor of your choice, but make sure there are no fruit chunks in it)
Beat the sugar and butter together until light and fluffy.
Beat in the almond meal and vanilla flavoring.
Add the flour and knead until smooth.
Chill dough in the refrigerator for 1-2 hours.
Preheat over to 325 degrees.
Roll out the dough on a lightly floured cutting board to the thickness of 1/8"-1/4" (the thinner the dough, the better the cookie).
Cut with small round, star, or diamond-shaped cookie cutters.
Use a smaller cookie cutter to cut a "window" in half the cookies (these will be the top of the cookie sandwiches).
Place all the cookies on lightly buttered and floured cookie sheets.
Bake for 12-15 minutes, until golden.
Remove cookies from the baking sheet and let cool.
Spread the cookies without a "window" with fruit jam.
Coat the cookies with "windows" in confectioners' sugar, and then place on top of the cookies with fruit jam.