Spiral Supreme - Pasta Excellence
Tisme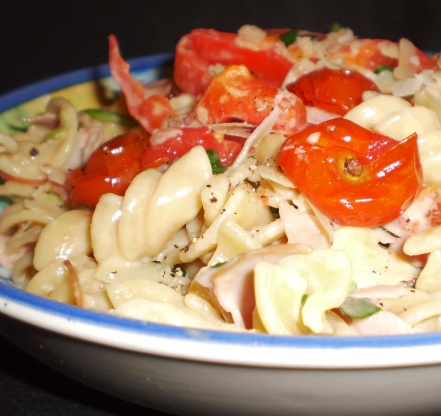 A creamy pasta dish filled with colourful vegetables, found it years ago on the label of a can of Carnation Evaporated Milk, been making it ever since, I adapt the vegetables, and add, or omit, the ham, depending on what I have, and who is eating! I've guessed at cooking and preparation times, the only real work is in preparing the vegetables....you can have the meal on the table in under twenty minutes from start to finish. Use vegetable stock cubes, and omit the ham, to make this a tasty vegetarian dish... that's how I generally prepare it!

Top Review by Tisme
Well what can I say. this is delicious and so creamy ohh and not to mention quick and easy also! We loved it here, I only made one change...umm maybe 2. We are not big mushy eaters here, so I only used 2 (so no-one would notice.... and they didn't) but I also had some semi-roasted cherry tomatoes so I added them like a garnish at the end. I also used a fat free light and creamy evaporated milk, and you would have never known. As for the leftovers........ DS had most of the leftovers packed for lunch for the next day as soon as dinner was over...he wanted to take it to work, the little bit he left, I also took to work and ate cold, with added parmesan on top......... just as delicious! Actualy this would make a great salad for summer also! Thanks Karen this recipe is another recipe to make again and again here for this family!
Cook pasta as directed on packet - drain and toss in a little oil. Set aside and keep warm.
Heat remainder of oil in a large saucepan.
Fry mushrooms, spring onion, garlic, red pepper, chilli and smoked ham, until golden.
Add spinach and stirfry for a minute.
Add chicken stock.
Mix cornflour with a little evaporated milk, until smooth, add to stirfry with remaining Evaporated Milk, and soy sauce.
Cook for two more minutes, stirring occasionally, until sauce thickens.
Add parmesan cheese and pepper to taste.
Serve immediately over hot pasta.