Rita1652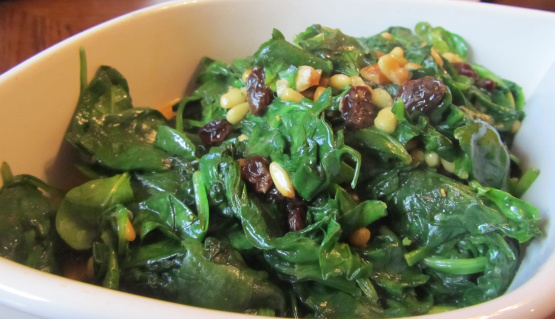 For ZWT8, from a Spanish website of traditional recipes. "This Spanish rice dish makes a change from Spanish paella and is just as delicious (if you like clams)." Tips and ideas: Prepared this spinach dish just before the meal to ensure that it´s served hot Serve as a side dish with this seabass recipe. Add a pinch of nutmeg when adding the salt and pepper gives the spinach an aromatic flavour.

I repeated Rita~'s cooking method and sauteed the garlic, pine nuts and sultanas together and then added the fresh spinach while the skillet was still hot, and I cooked it just until the spinach wilted a bit (maybe 5 minutes or so). And it was delicious. The sultanas add a wonderful taste, and the pine nuts give it a nice contrasting texture. We really enjoyed this dish. Thanks for sharing your recipe, Elmotoo. Made for the Best of 2012 tag game.
Wash the spinach thoroughly and cut the rough stems off.
Cook the spinach in very little water in a covered pan for 5 mins then drain and chop.
Heat the olive oil over a medium to low heat and add the finely sliced garlic, sultanas and pine nuts. Fry gently for 2 - 3 mins, stirring all the time so that the pine nuts brown but do not burn. Add the spinach.
Mix all ingredients together and season with salt and pepper.