KateL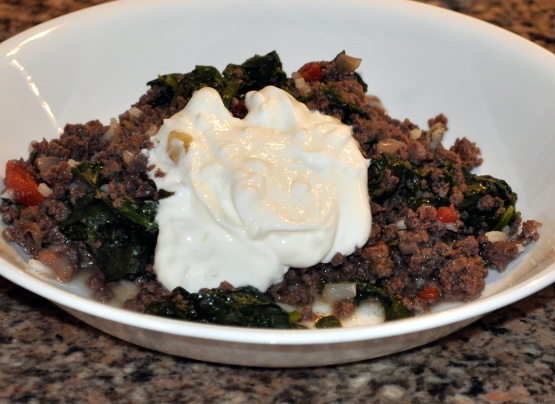 This is a great recipe I got off of a Turkish cookbook blog. So easy and so yummy even my 3 yr old liked it.

Top Review by KateL
Please see my rating system, I cannot give more than 3 stars when the directions refer to onions not listed in the ingredients (I used 1 medium onion). I also think a cooking time should be given after layering the spinach. With spinach on top while cooking, it is impossible to see the rice unless everything is moved around. I gave it 30 minutes. (I made 1/4 of Recipe #294358 #294358 for the paste and thought it was was too mild.) For this recipe, I liked the Garlic Yogurt Sauce on top; to help the shopping list, "garlic, yogurt sauce" should be entered as "GARLIC YOGURT SAUCE:" We enjoyed this dish, as we both got seconds. If this recipes is revised, please let me know so I can adjust my rating. Make for Spring 2013 Pick-A-Chef.
Saute the onion with olive oil and butter for about 2-3 minutes on medium heat in the medium sized pot.
Then add the ground beef, salt and pepper, then stir. Cook together until the colour of the ground beef turns to light brown.
Add the rice, tomato, red pepper paste and crushed tomato, stir again.
Place the spinach all over and close the lid.
Cook on medium heat until the rice is tender without adding water.
Place the dish in a service plate and put a couple of spoons of Garlic Yogurt Sauce over the top.