Spinach With Blue Cheese and Walnuts
iris5555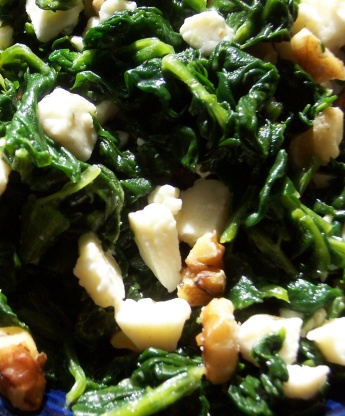 This came from "The Creative Vegetarian Cookbook." I have daydreams about how amazingly wonderful the flavor of this dish was. When I made it, I used regular blue cheese instead of vegetarian. I've cut this recipe in half to serve 2.
Wash the spinach and remove any tough stems.
Place in a saucepan with just the water left from washing clinging to the leaves and cook over low heat until the spinach wilts, about 10 minutes.
Transfer the spinach to a plate and place another plate on top.
Squeeze the plates together to remove excess water from the spinach.
Melt the butter in the saucepan, add the spinach and the nutmeg, toss to coat.
Stir in the walnuts and blue cheese.
Serve immediately before the cheese melts completely.