gailanng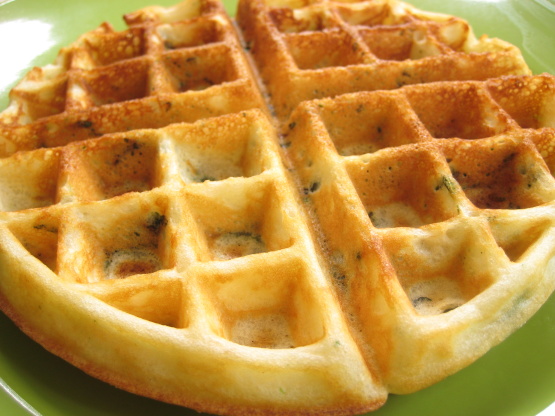 Very tasty savoury variation of your classic sweet waffles. Great as a snack or appetizer when hosting a party.

I was pleasantly surprised with the results although they differed from what I expected. I used a whole bag of fresh baby spinach which sauteed nicely and instead of salt and pepper, used a generous amount of Season All which went nicely with the browned onion. The batter had a very eggy taste, it reminded me of eating quiche. Next time I make these, I'll do everything with the onion and spinach exactly the same as they came out divine but up the flour and lower the eggs and maybe add some spicing in the waffles. All in all though, a winner! Made as VIP Recipenap for Veggie Swap 17.
Cut the onion into small pieces. Saute in olive oil until soft. Then add the spinach. Season generously with salt and pepper (the spinach absorbs a lot of flavour). Cook until the spinach is done.
In a big bowl combine butter, cheese, eggs, milk, flour and baking powder. Carefully fold in the spinach and onion.
Bake portions of the dough in a well heated and lightly greased waffle iron until crisp and golden brown.
Serve with garlic yogurt or topping of your choice.