Spinach Tortillas - Green and Yummy!
Pajene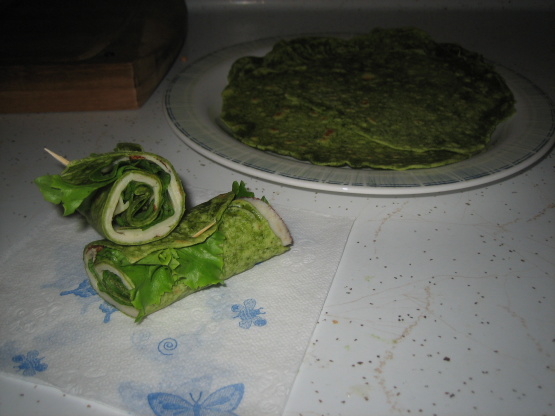 Okay, so who has seen these things packaged at supermarkets? "Spinach Tortillas, great for snack wraps!" So they say, but have you ever looked at the ingredient lists? Most have TRANS fats disguised as 'partially hydrogenated oils'. So here is my healthier version of these things, not to mention cheaper. :)
In a cup, microwave water, butter and oil for a minute or two (enough to melt butter).
Meanwhile in food processor place flour, sprinkle with salt and add spinach leaves. Chop until flour turns green and there are no longer large leaf pieces.
Transfer green flour to a bowl and pour water mixture over top.
Knead with hands. If dough is too dry add a little water, if too wet add a little flour. (however this shouldn't be necessary).
Now form 8 small balls and set them in back in the bowl.
Cover with a damp cloth/ paper towel.
Let rest 15-30 minutes.
Roll out your tortillas as thin as you can, over wax paper.
Heat up your griddle or skillet over low heat. Do not grease.
Carefully peel your tortilla from the paper and place into hot skillet.
Flip repeatedly to prevent burning. Allowing about 5-8 seconds per side until golden bubbles appear on the tortilla - this means they are ready!
Remove from heat and enjoy them warm or let them cool.
They can be refrigerator stored in air tight bag - Ready to use for all your favorite snack wrap combination. (If tortillas seem too stiff taken straight out of refrigerator, they can be microwaved for a few seconds to soften them again).
Enjoy!