Spinach-Topped Baked Potatoes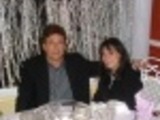 Here's a great way to get your green vegetables in! I really love this as an accompaniment to a nice steak, which makes a complete meal. And it's super easy, too.
Directions
Preheat oven to 400 degrees.
Scrub potatoes thoroughly and prick the skins with a fork. Rub lightly with oil.
Place in a very shallow baking pan and bake for 1 hour or until potatoes feel soft.
Meanwhile, squeeze spinach to remove excess moisture. Saute in butter for 5 minutes. Add sour cream, nutmeg, salt, and pepper. Heat and stir about 2 minutes. Keep warm.
Remove potatoes from oven and cut an "X" on top of each potato. Squeeze sides to force open. Spoon topping on potatoes.