Spinach Tomato Tortellini
Ms B.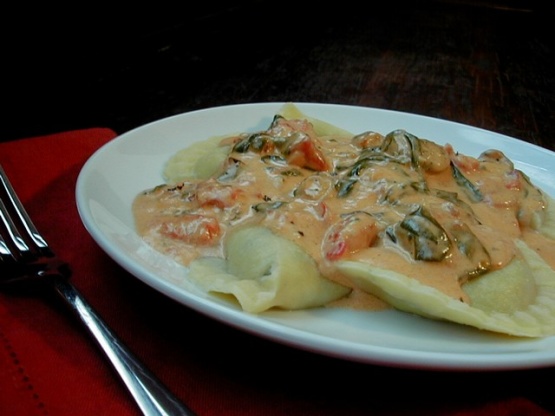 This is an easy and delicious recipe. Hope you enjoy!!

I like quick meals on Fridays when I have to work late, and this fits the bill. I had to sub meat tortellini, personal preference, and used two packages. One wasn't quite enough, only 12 oz., but the rest I kept the same, and it was wonderful. This is definitely a Friday night keeper in our house!!
Bring a large pot of water to a boil. Add the tortellini and cook until tender, about 10 minutes.
While you get the tortellini going, combine the tomatoes, spinach, salt, pepper, basil, and garlic in a large saucepan over medium heat. Cook and stir until the mixture begins to bubble.
In a medium bowl, whisk together the flour, milk, and cream.
Stir this mixture into the saucepan along with the Parmesan cheese.
Heat through, then reduce heat to low, and simmer until thick, about 2 minutes.
Drain the tortellini, but do not rinse, then pour them into the saucepan with the sauce. Stir to coat and serve.