Spinach-Tomato Quesadillas With 3 Cheeses
Prep 15 mins
Cook 10 mins

This is an interesting take on quesadillas, adapted from Great Good Food by Julee Rosso. The recipe calls for these to be baked in the oven rather than done in a skillet. When we had them they were a bit flimsy for eating by hand - but that might be because I used an insulated baking sheet - they may benefit from browning on the bottom a bit. The recipe lists fresh herbs, but I used dried (teaspoons instead of tablespoons) and they were delicious.
Directions
Preheat the oven to 425.
In a blender, puree the goat cheese, cottage cheese, half the mozzarella and pepper to taste.
Saute the onions, garlic and spinach in a little olive oil (the original recipe doesn't call for sauteeing, but I like it better that way - so you can skip this step if you prefer).
Place 2 tortillas on a baking sheet. Spread half the cheese mixture on each tortilla to within 1/2 inch of the edges.
Sprinkle half of each remaining ingredient over each tortilla.
Top with the other 2 tortillas.
Sprinkle remaining mozzarella over the top of the quesadillas.
Bake for 8-10 minutes, or till cheese begins to brown.
Slice each into 4 wedges and serve warm.
Most Helpful
I used cottage cheese, mozzarella and fat free cheddar (thats what I had). I'm a real fan of the spinach and tomato combo to start with and with the added cheeses and other goodies this was a shoe-in hit. I had to use the dried herbs but that didn't harm the recipe any for me and I'll take baked as a preferred cooking method any day. It was a great lunch

Totally loved these! We also sauteed the onions, garlic and spinach first. My BF went shopping for the ingredients, and since neither he nor the store clerk knew what cilantro looked like, he ended up taking home a mislabeled bunch of dill (LOL!). Totally loved it with the dill though! If you don't like cilantro, I recommend using dill. We shared this among 6 large four tortillas and we each had one for supper. Will be eating the 3rd for lunch tomorrow. We did not alter the cheese and I ate mine with lots of hot sauce. Will be making this again - very easy!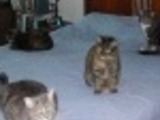 Loved these. Substituted the cheeses with Jack/Cheddar blend since my inlaws were here and would never eat goat cheese :)! Also cooked on a non stick griddle instead of the oven. Absolutely will make again. Made for ZWT III.