Spinach, Tomato and Feta Quiche
Ashley Cuoco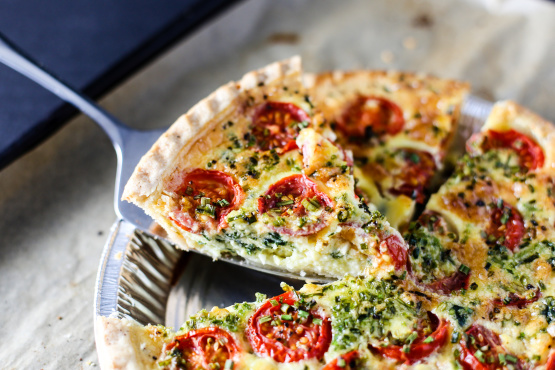 This is an impressive looking quiche that's easy to personalise to your own tastes. You may like to try red peppers instead of the tomato, add a few mushrooms, maybe some asparagus...you get the idea! I served this with a nice salad, a vegetable side dish and a cheese plate for a nice summer meal.

This was wonderful! I made it crustless, and I used another reviewer's suggestion of thinly sliced Roma tomatoes instead of cherry tomatoes. I didn't have any chives, so I used some thinly sliced scallions instead. It cooked in exactly 45 min, and it was perfect! Thanks for a great dinner!
Two hours before you want to make the quiche, take the dough out of the freezer to defrost.
When you're ready to start, lay the dough into either a 10 inch quiche or springform baking pan, making sure you have enough dough to form a crust around the edge.
The crust should come 1 to 1 1/2 inches up the side of the pan.
Crumble the feta cheese onto the bottom of the crust.
Pour the olive oil into a saucepan and, when it is heated, throw in the spinach and cook until wilted.
Spread the spinach over the feta cheese.
Beat the eggs, garlic and creme fraiche together.
Pour over top of the feta cheese and spinach.
Place cherry tomatoes on top of the quiche.
Sprinkle chives and ground pepper on top.
Bake at 350 F or 180 C for 45 minutes.