Spinach Stuffed Shells With a Mushroom Sauce
Rita1652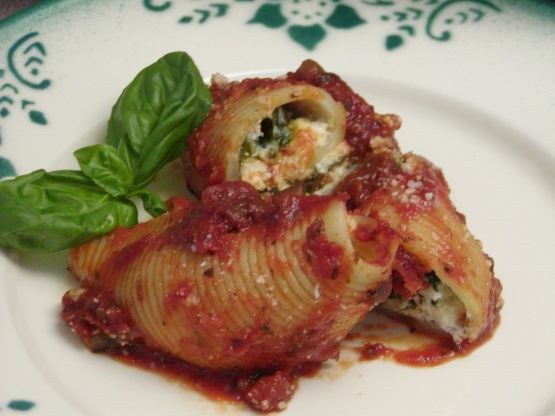 Watch these disappear! The shells are cooked al dente stuffed with creamy cheese and tender baby spinach topped with a tomato mushroom sauce then cooked in the oven where they plump up. And have you wanting more.

This was delicious! The sauce was fabulous and really made the dish special. I followed the recipe as directed, but used some of the red wine I was going to serve for dinner in the sauce in place of the white.
Preheat oven to 350 degrees.
Spray a 9x13 inch pan with nonstick spray.
Soak mushrooms in hot water.
In a large saute pan, pour oil saute onions and garlic 1 minute add spinach cook till wilted.
Remove spinach from pan leaving some garlic and onions in pan.
Chop the soaked mushrooms (stems discarded) and add to pan with the remaining onions and garlic.
Add the mushroom soaking water(strained from any grit), white wine and herbs.
Season with salt and pepper.
Cook till liquid is all absorbed.
Add crushed tomatoes.
Simmer while preparing shells.
Squeeze liquid from cooled spinach and place juice into sauce and spinach into a bowl with cheeses, egg, nutmeg.
Mix to blend.
Adding salt and pepper to taste.
Spoon evenly into shells and place into pan.
Pour sauce over shells.
Reserving some sauce for serving at the table.
Bake covered for 30 minutes.
Garnish with grated cheese.
Mangia!