Spinach Stuffed Puff Pastry Cups
Aimchick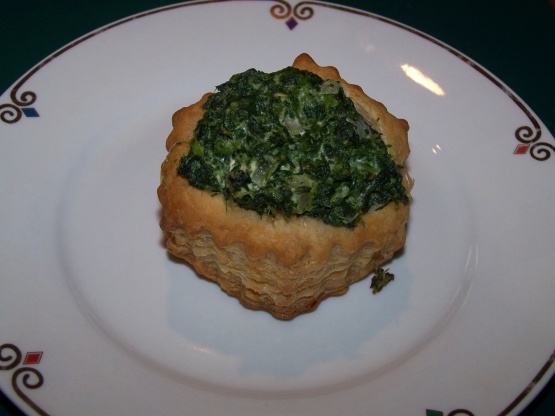 Puff pastry is so fun to cook with! I like to make this as an appetizer. Puff pastry always looks so elegant and guests always give me a "How did you make this" reaction. It also makes a great lunch on its own. Always be sure to fully squeeze all the water out of the spinach. Other wise the whole thing will be a pool of mushy goo! For extra flavor, try adding 1/3 cup sauteed onions.
Preheat oven to 400.
-mix all other ingredients in a bowl and let stand at room temperature.
-Scoop tops of baked pastry shells out with a spoon.
-Fill pastry shells with spinach mixture.
-Bake 10-15 minutes, until spinach mixture is hot in the middle.