Spinach Stuffed Mushrooms
Rita~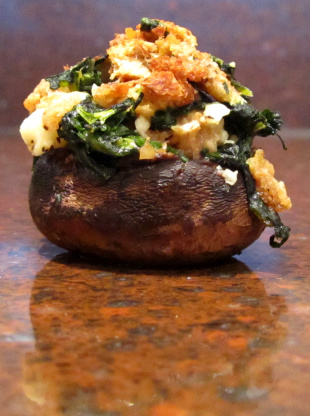 I think this recipe came from Weight Watcher, but am unsure-a friend lent her book to me but never made these. LOL b/c when I made these for her and her hubby he loved them! It is important that you squeeze out as much water as posssible out of the spinach or the whole thing will be soggy. I serve it with grilled steaks and Potato Croquettes With Parmesan and strawberries dipped in chocolate. I usually prepare the dipped strawberries right before our guests come, and assemble the potato croquettes and stuffed mushrooms in morning and later saute potatoes and bake the stuffed mushrooms while DH grills the steaks.

Top Review by Rita~
I used arugula (in place of the spinach)that I had frozen from the garden. I didn`t measure anything. Used olive oil not margarine. Skipped the egg used roasted garlic and hot pepper flakes. DH didn`t like it! But I knew he wouldn`t doesn`t like greens and feta! I loved it! Thanks!
Remove and chop stems of mushrooms, reserving the caps.
In 9" skillet, heat olive oil, add garlic and cook over medium high heat until softened, about 1 minute.
Add chopped mushrooms and spinach, cook, stirring frequently, until moisture has evaporated, about 3 minutes.
Transfer spinach to medium sized mixing bowl; add cheese, bread crumbs, egg substitute, oregano, and pepper; stir to combine.
Fill each reserved mushroom cap with an equal amount of spinach (you probably will not use all the spinach mixture); arrange in 1 quart casserole.
(At this point, you might refrigerate it for later.).
Put 2 tablespoons water into bottom of casserole and bake at 375 degrees for 20 minutes, or until mushrooms are tender and lightly browned.