Spinach Stuffed Chicken Breasts for Two
Derf2440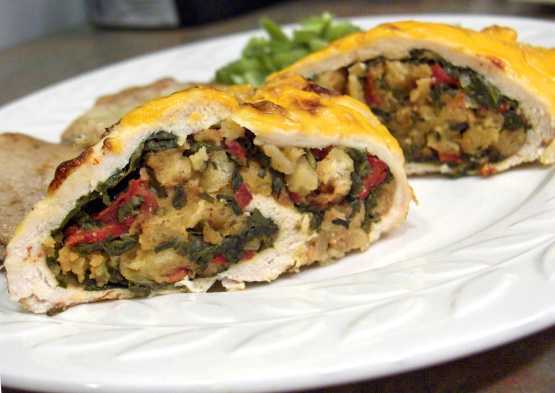 Great low fat chicken recipe. Great for folks on LAWL.

I found this exact same recipe on the kraft foods site and was going to post it, but your post is almost letter for letter so I don't need to post it, thanks for posting. We loved it, very flavourful and looks wonderful too! love the roasted red pepper. I had no mozzarella in so I used sharp old cheedar, also used Kraft low cal 3 cheese dressing, loveely!! I will be making this one again, probably for company.
Preheat oven to 350 degrees F. Bring water and 1 tbsp of the dressing to boil in large skillet on medium-high heat. Stir in spinach, stuffing mix and peppers; cover. Remove from heat, let stand 5 minutes. Set aside.
Place chicken, top-sides down, on large cutting board; spread evenly with stuffing mixture. Starting at one of the short ends, tightly roll up each chicken breast. Place, seam sides down, in 8 inch square baking dish. Brush with remaining 1 T. dressing.
Bake 35 minutes, sprinkle with cheese. Bake an additional 5 minutes or until cheeses is melted and chicken in cooked through (170 degrees).
1/2 recipe = 1 serving.
LAWL count- 1 protein, 1 veg, 1 starch, 1 condiment, 1/2 dairy.