Spinach-Stuffed Chicken Breasts
gailanng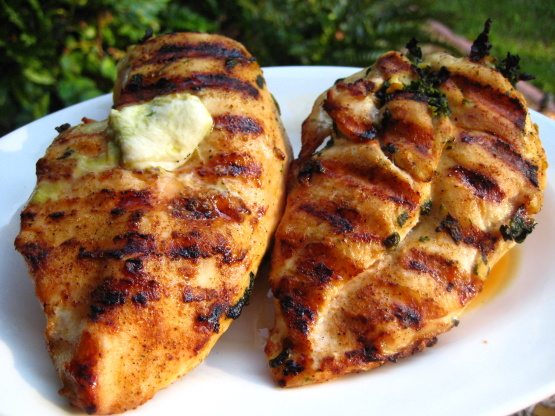 This recipe came from Family Circle I believe. I LOVE IT!!! My husband loves spinach and I can't stand it, but we both love this recipe!

This was a good recipe. It was raining outside so I just baked them in the oven for 30 minutes. I'll make this again. I would add garlic and parmasean to the spinach mix next time.
Prepare grill.
In medium sized skillet heat 1 tbsp oil over medium high heat.
Add onion and red pepper; saute 5 minutes.
Add spinach, 1 tsp rosemary, 1/2 tsp salt and 1/4 tsp pepper; cook 3 minutes.
Remove from heat; let cool slightly.
Stir in cheese.
For rub, in small cup, combine 1 tbsp oil, 2 tsp rosemary, 1/2 tsp salt, 1/4 tsp pepper.
In each breast, cut a pocket horizontally through thicker side.
Fill each with 3-4 tbsp spinach stuffing.
With 2 toothpicks, secure pocket closed.
With fingers, spread rub on both sides of each chicken breast.
Grill 10-12 minutes per side or till thermometer registers 170.