Spinach Stuffed Chicken Breasts
SocaliJL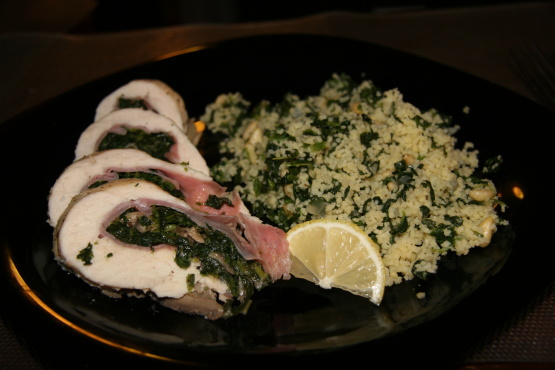 Easy to make, but looks good on a plate if you're trying to impress.

Tasty and very easy yet elegant. The white grape juice ended up being too sweet for my taste, but it made the chicken very moist. Next time I'll try 1/2 c water or broth plus 1/2 c juice to cut down on the sweetness. I also reduced the pan juices and served it on the side. Try it with Spinach and Onion Couscous http://www.recipezaar.com/80667 it pairs well. Thanks for sharing!!!
Place each chicken breast half between two slices of plastic wrap and pound with meat mallet until 1/4 inch thick.
Preheat oven to 350°F.
Pat spinach dry with paper towels.
Combine spinach, Parmesan, lemon peel and black pepper in a large bowl.
Spray a small nonstick skillet with cooking spray; add mushrooms.
Cook over medium heat 3-4 minutes or until tender, stirring frequently.
Arrange 1 1/2 slices of turkey ham over each chicken breast.
Spread each with 1/4 of spinach mixture.
Top each with 1/4 of mushrooms.
Beginning with longer side, roll chicken tightly; tie with kitchen string or secure with toothpicks.
Place rolls in 9-inch square baking pan, seam side down.
Lightly spray chicken with cooking spray.
Pour grape juice over chicken rolls.
Bake 30 minutes or until chicken is no longer pink.
Remove string or toothpicks; cut rolls int 1/2-inch diagonal slices.
Arrange on plate; pour pan juices over chicken.