Pamela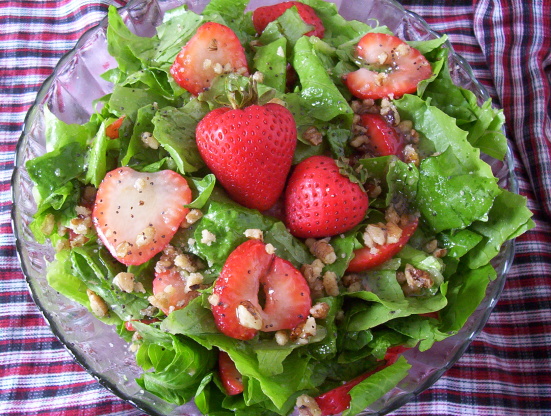 Spinach and strawberries what an odd combination for a recipe. That is what I thought before trying this the first time. Now I get many requests to bring this for dinner parties. The raspberry wine vinegar adds a marvelous taste, and compliments the first two ingredients. This salad is very eye pleasing in crystal.

This is another one of those favorite recipes that was lost. Thank you so much posting. I just love the taste of the strawberries mixed with the taste of the spinach. I much prefer this recipe to those that add mandarin oranges to the spinach salad. Everyone should try this at least once.
Toast pecans over low heat, set aside to cool.
Combine dressing ingredients and shake well.
Toss and garnish with a few sliced strawberries.
Serve immediately.
(Thanks to Chef #320254's review I'm updating this) If you'd like, use a high speed mini-mixer to emulsify the dressing.
Roland, makes a Raspberry Flavored Wine Vinegar.