Spinach Sauteed With Raisins and Pine Nuts
PaulaG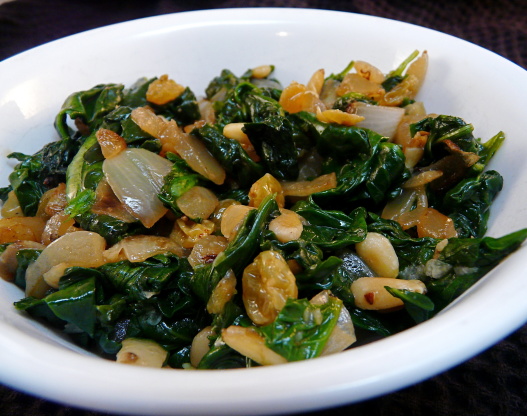 Another variation on the spinach/raisin/pine nut theme. This comes from the Williams-Sonoma website. I have never actually made it with raisins or pine nuts - I usually use slivered almonds and currants and it turns out great. Perfect accompaniment to just about anything!
Top Review by PaulaG
A nice take on fresh spinach. The pine nuts were lightly toasted and the raisins were plumped in the microwave for a few seconds. I did add in a touch of freshly ground nutmeg but no made no other changes. Delicious with the toasted nuts and light sweetness of the raisins.
Put the raisins in a small bowl and cover with boiling water. Let stand for about 10 minutes, then drain and set aside.
If desired, toast pine nuts or almonds in a pan over medium heat, being careful not to burn them. Remove and set aside on a plate.
In a large saute pan, warm olive oil over medium heat and saute onion until golden, about 5 minutes. Add garlic and saute one minute more.
Add spinach and cook 1-2 minutes until bright green and wilted. Stir in raisins and nuts and season with salt and pepper.
Serve hot or at room temperature.