Spinach Saute With Brown Butter & Garlic

This quick-cooking vegetable accompaniment is best with tender, young spinach. Recipe from Fine Cooking
2 tablespoons unsalted butter
2 garlic cloves, gently crushed and peeled
10 -12 ounces spinach, thick stems trimmed, leaves washed and dried well
salt & freshly ground black pepper, to taste
1 lemon, halved
Directions
In a large saute pan over medium heat, melt the butter with the garlic until the butter is golden brown and smells nutty; make sure the garlic doesn't burn.
Raise the heat to high and add the spinach, in batches if need be, flipping and stirring, until just barely wilted, about 1 minute Take the pan off the heat; remove the garlic.
Season the spinach with salt, pepper, and a squeeze of lemon.
Toss and serve immediately.
Most Helpful
This was great, the only change I made was to use 2 teaspoons of butter instead of 2 tablespoons and it seemed plenty buttery enough for us! Thanks!
Simple and delicious! My daughter loves spinach and this is so quick and easy. I do add a little garlic powder to it just to enhance the flavor a bit more.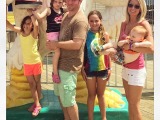 Had this for dinner tonight. It was awesome. My son who doesn't eat much spinach any more asked for 2nds.