scancan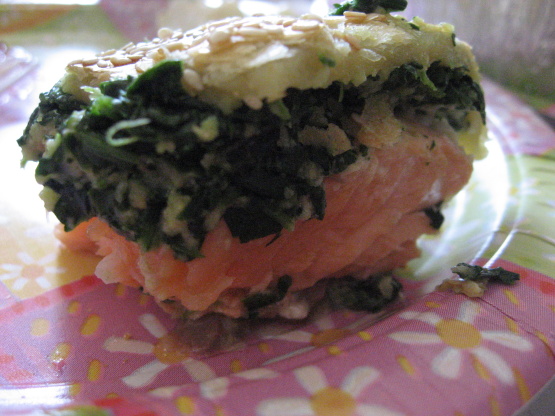 This looks so elegant; everyone will be so impressed by this dish but it is easy! You use puff pastry dough and anyone can make this and it is so delicious.
Spread two cloves crushed garlic on salmon fillet and allow to marinate for several hours.
Mix spinach, bread crumbs, egg, remaining garlic, and spices.
Roll out pastry dough until very thin and place fillet in center of the dough.
Spread mustard on fish.
Spread spinach mixture on fish.
Wrap dough around fish.
Place dough packet seam side down, onto cookie sheet. Brush with an eggwhite and sprinkle with sesame seeds.
Make incisions on top of dough at 3/4" intervals.
Bake at 375 for 30 minutes or until dough is nicely browned.
Cut into slices.
Serve warm with tartar sauce.