Spinach Salmon Roast With Feta and Ricotta
Barb G.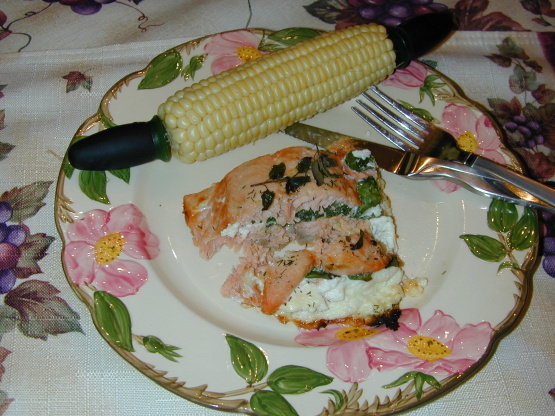 A recipe recently published from our Whole Foods Market. Have not tried it yet, posting it for safe keeping.
Delicious Salmon, I cut the recipe down in size for the 2 of us. Would love to make it using a larger portion. It makes a beautiful dish as well delicious. Next time I am going to add some garlic or maybe shallots in with the cheese mixture. Thank you for posting the recipe, I will be making it again.
Preheat oven to 450°F.
Slice the salmon through the center almost to the other end so the salmon will lay open flat in one large piece.
Turn salmon over so gray underside is turned up.
Set aside.
In a bowl, combine the ricotta cheese and feta, mashing and stirring with a fork until well blended.
Season to taste with white pepper and salt.
Spread the salmon filet with the mustard.
Lay 1/2 cup of the spinach over the mustard.
Evenly spread the cheese mixture on top of the spinach.
Top with the remaining spinach leaves.
Gently roll the salmon up and secure with cooking twine.
Place salmon in a baking dish coated with olive oil.
Brush the top and sides of the fish with olive oil.
Sprinkle additional salt and black pepper, to taste, over the fish.
Top with fresh dill and fresh oregano as a garnish.
Bake at 450°F for 15 to 20 minutes, or until fish is just cooked through.
To serve, slice carefully with a sharp, serrated knife.