Spinach Salad With Warm Bacon Dressing
Parsley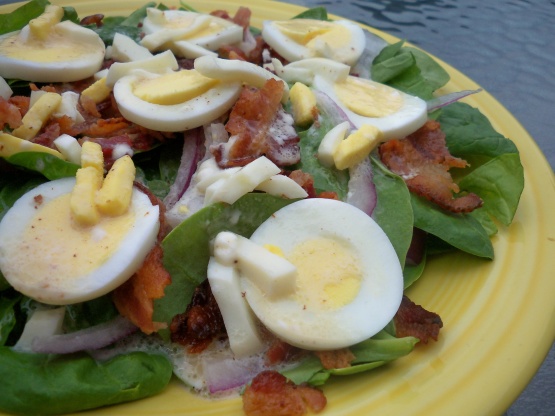 This salad is so good and so easy! The creamy, warm bacon dressing wilts the spinach and gives this salad a wonderful flavor. I like to use Splenda when I can, even when we are not watching our other carbs, because my DH's blood sugar tends to be on the high side. BUT, you can use sugar if you prefer!
Place prepared spinach in a large bowl. Add onion. Refrigerate, tightly covered.
Fry chopped bacon until crisp; remove to paper towel and set aside.
Allow bacon drippings to cool for 5 minutes or so (until it is no longer sizzling). In the frying pan, combine the drippings with vinegar, Splenda (or sugar), mayonnaise, salt and pepper and blend well.
You can now refrigerate all ingredients until just before serving, storing the dressing in a covered microwaveable container. OR you can use the dressing right out of the pan and proceed to tossing the salad.
When ready to serve, microwave the dressing on HIGH for 30 to 45 seconds, or until mixture boils.
Toss the chopped egg with the spinach salad then pour the hot dressing over greens mixture; toss again lightly.
Top with sliced egg and crumbled bacon.