Spinach Salad With Raspberry Dressing
Bergy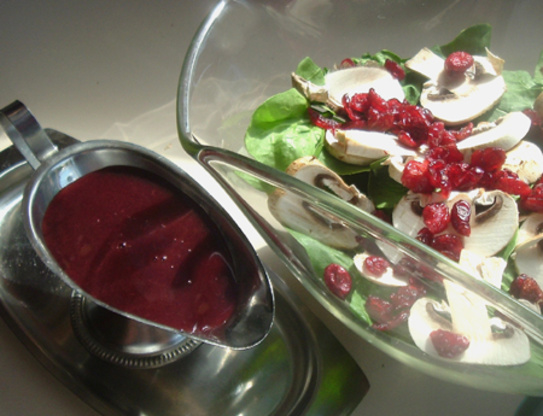 My doctor told me I had to add a little more iron to my diet and since I am not crazy about eating more red meat I found this recipe on the Food Network Website. I love this salad. I add either pecans or walnuts to give it a little more crunch.

I have never rated a recipe below a four and I feel bad about rating this recipe a one. No one in my family enjoyed this salad. I even placed walnuts I top. I used to bags of baby leaf spinach which is a little more over four cups. I am not sure if it is a misprint but four cups of oil is way to much to the only 2 teaspoons rasberry vinegar. It was to oily for our taste and you couldn't taste any of the other ingredients. I sure hope someone else will give this recipe a try and not be discourage from this review. Thanks for posting! I do enjoy trying new things.
In a large bowl, whisk together olive oil, mustard, vinegar, pepper, garlic salt, dried basil, sugar, and salt until dressing is well combined.
In another large bowl, combine the spinach, mushrooms, strawberries, and red onion.
Add the dressing and toss well.