Spinach Salad With Pepper Jelly Vinaigrette
gailanng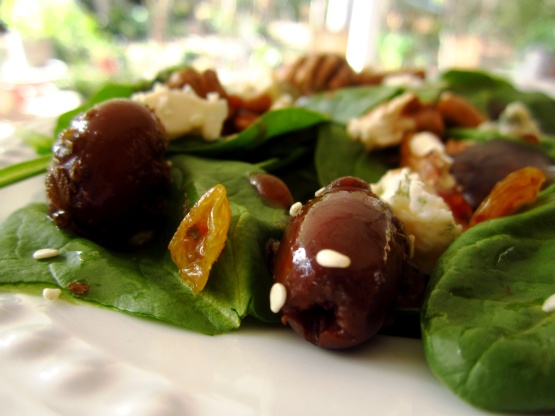 From a wonderful restaurant in New Orleans!!! PLEASE NOTE: Only use 1/3 cup of the prepared vinaigrette for the salad.
Wow, Steph, this is a Delicious salad, easy to make. I used my pepper jelly that I made. Love the dressing with the combonation of Spinach, raisins, toasted sesame and roasted pecans. I didn't use the sun-dried tomatoes, matter of preference. Topped it with the Blue cheese and olive. DH loved it. Thank you Steph, for another great recipe.
Vinaigrette Directions: Combine all ingredients and mix well in blender.
Salad Directions: Combine spinach, 1/3 cup ONLY of vinaigrette, tomatoes, pecans and raisins in large mixing bowl.
Toss until leaves are evenly coated with vinaigrette.
Garnish with blue cheese and olives.