Spinach Salad With Orange Vinaigrette
Pikake21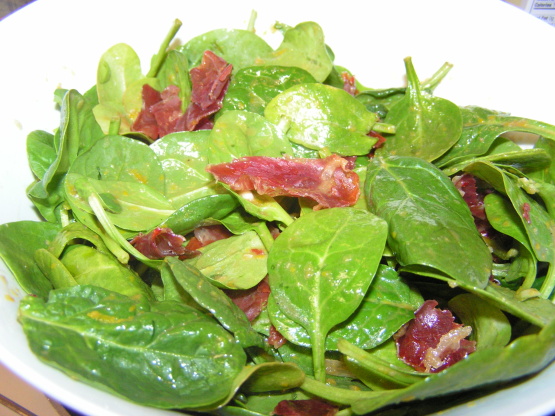 I have been trying to find this recipe on the foodnetwork site for a while, and finally found it! The prosciutto comes out so nice and crispy, making for a super light salad with a nice salty crunch. Who can resist?! I use it as a side salad, since it is so simple.

I loved the orange vinaigrette and will use it on other salads too. The combination with the spinach was lovely, even my picky mother-in-law thought it was delicious. I also substituted thin smoked bacon for the proscuitto as I couldn't find any.
Preheat the oven to 350 degrees F.
Place the prosciutto slices on a baking sheet and bake until just crisp, about 10 minutes. Let cool.
Crumble the prosciutto slices into a container and store in the refrigerator.
In a blender, combine the orange zest, orange juice, balsamic vinegar, honey, garlic, salt, and pepper.
Blend until smooth. With the blender running, add the olive oil in a steady stream until combined.
Transfer to a container and store in the refrigerator.
To serve, put the spinach in a large bowl.
Toss with enough of the vinaigrette to coat the spinach.
Sprinkle with the crisp prosciutto crumbles, toss again, and serve.