Spinach Salad with Hot Bacon Dressing
Diana 2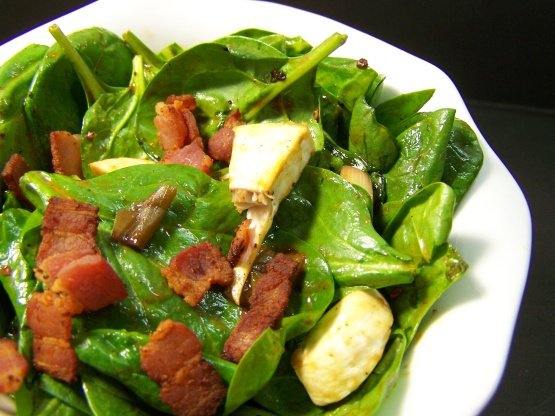 This was a great side dish. After cooking for 5 minutes (step 5) there didn't seem to be a whole lot of dressing, so I threw the spinach into the wok, and tossed it around over the heat for about a minute (no more) until it JUST started to wilt a little. We all enjoyed this so much thank you Sherry.
Rip spinach into bite size pieces and place in a large salad bowl.
Fry bacon until crispy, remove bacon to drain on paper towel.
Stir fry the green onions in the bacon drippings.
Mix in vinegar and ketchup, salt and pepper to taste.
Heat, stirring continuously for about 5 minutes.
Pour hot dressing over spinach and toss well.
Add bacon and toss again.