Spinach Salad With Grilled Chicken & Blueberries
jenne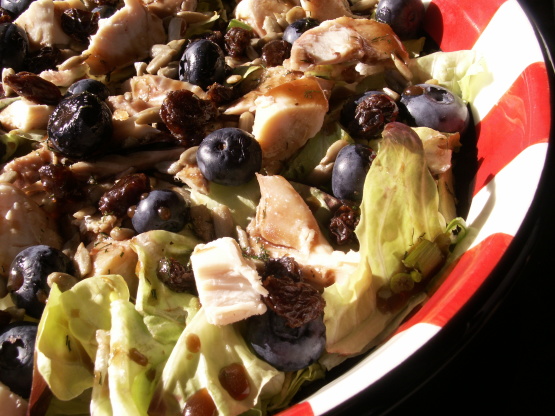 I have been craving this awesome salad that my friend and I had at a restaurant in Houston. I could not find the recipe so I tried my best to recreate it. Fresh and yummy, this combo is a nice change of pace!

This salad was delicious, colorful and easily prepped in 5 minutes. For color, a fresh dill blossom sprig was added; and organically grown local blueberries, spinach from the farmer's market and expeller pressed walnut oil in the dressing. I did however, skip the chicken because this was served as a side salad along with chicken as our main dish. Thanks for posting, mama's kitchen! cg
In a jar or container with cover combine the dressing ingredients and shake well. Refrigerate to chill until ready to serve.
Wash fruit and veggies and dry completely. Dressing will not adhere if greens are wet.
Combine the spinach, blueberries, onion, sunflower kernels, nuts and raisins in a large bowl.
Slice chicken into strips and place on top of greens.
Pour chilled dressing over salad and gently toss.