Spinach Salad With Fresh Summer Berries
Ms B.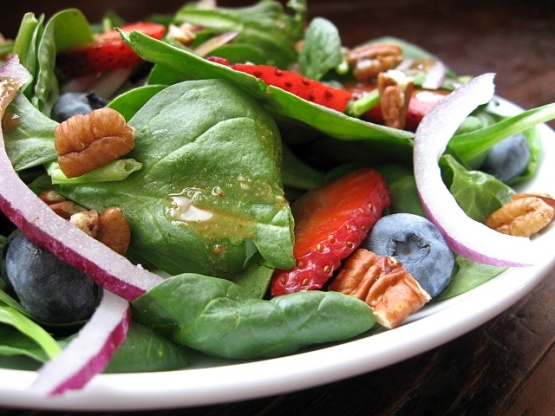 Totally non-fat and very nutritious, with a honey-mustard dressing. The surprise flavor is curry in the dressing! Use baby spinach or whole-leaf spinach, washed & sliced.

Top Review by Ms B.
While this isn't totally non-fat (natural fats in the pecans, and others in the mustard of the dressing), this is a great salad. I love the combination of the berries and spinach, and the dressing has just the right amount of tang balanced with sweetness. I will make this often with the ripe berries coming into season.
Wash spinach and spin dry. Add blueberries, strawberries, and onion. Mix gently.
Whisk together the dressing ingredients. Pour over the salad just before serving. Sprinkle with the chopped pecans.