Spinach Salad With Egg Vinaigrette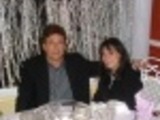 From Good Food Magazine, March 1986
Directions
Heat egg and water to cover in small saucepan to boiling. Remove from heat; let stand covered 10 minutes.
Meanwhile, trim large stems from spinach; rinse thoroughly and drain.
Run cool water over egg, then peel. Rub salad bowl with garlic. Mash egg in bowl with fork. Add oil, vinegar, salt, and pepper; beat with fork to blend.
Add spinach to vinaigrette and toss to coat.
Most Helpful
I enjoyed this salad! Instead of rubbing the bowl with the garlic, I chopped it up fine and added it to the dressing. Thanks for a nice supper salad!