Spinach Salad With Chili Lime Dressing
PaulaG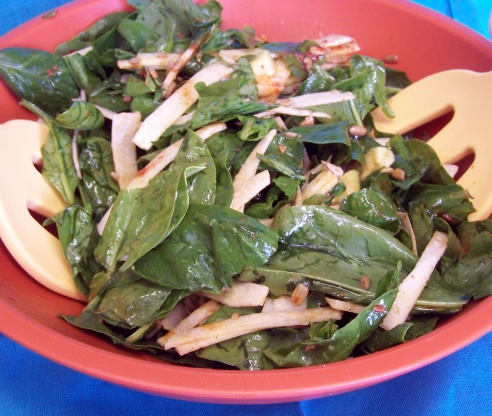 With jicama, avocado and sunflower seeds tossed in a spicy dressing, this is not your typical spinach salad. From Southern Living.

Nice and fresh, but with a kick. This is the first time I have had jicama and I was surprised how sweet it was. Something different for a salad. I did double the chili powder since I wanted more kick. I didn't have spinach so I used romaine instead and it was great!
If using bulk spinach, remove stems, wash, pat dry and tear into bite-sized pieces.
Combine spinach, avocado and jicama in large bowl; set aside.
Combine oil and next 6 ingredients in a jar; cover tightly and shake vigorously.
Drizzle dressing over salad and toss gently to coat.
Sprinkle with sunflower kernels; serve immediately.