Spinach salad w/ apple hazelnut dressing
Rita1652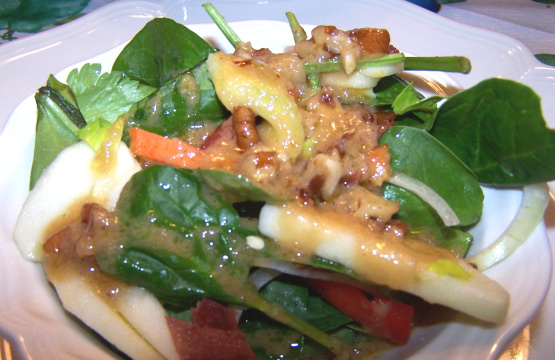 Light salad for the hot summer. From my local newspaper.

Very good salad! I made the dressing exactly as directed. The dressing has great flavor and tastes great with the apples. I sliced up a whole apple so there was a lot of fruit in it rather than just a garnishing. I accidentally put too much dressing on the salad so I would add and toss it slowly so you get the amount of dressing you prefer. For our family of four the dressing will make the salad for 2 meals.
In saucepan on high heat, cook apple juice until it is reduced till only 1/4 cup remains.
This should take approximately 15 minutes.
Pour reduced juice into a non-reactive bowl and let cool.
When cool, mix in garlic, mustard, vinegar, worcestershire, tabasco and lemon juice.
Whisk olive oil in slowly, add nuts and salt and pepper to taste.
Rip spinach into bite sized pieces and place in serving bowl.
Pour dressing over spinach and toss.
Garnish with onion and apple.
ENJOY!