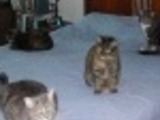 Made this last night - very flavorful dressing. I got this recipe from Cottage Living, 6/2006, and made it with some adjustments. It originally called for 3 tablespoons sesame oil, so if you don't worry about fat intake (and are familiar with the relatively strong taste of sesame oil), go for it. Added a cup of leftover grape tomatoes. Also substituted maple syrup for the honey and I think it worked out well.
Directions
Combine all dressing ingredients in a blender, food processor or covered cruet and process or shake well until blended (I let my blender mince garlic I had sliced).
Combine salad ingredients except for sesame seeds into a large bowl. Toss well with dressing and sprinkle with sesame seeds to serve.
Most Helpful
Very good salad and dressing. Loved the ginger, not so much the garlic (my personal preference)! May tone that down a bit next time. I used 1 tablespoon of the sesame oil and it imparted a nice nutty flavor. Otherwise, wouldn't change a thing. Made for the I Recommend Tag Game.
Loved getting my veggies this way, and DH did not complain for once that "I don't eat salad, you know." The salad dressing was perfect for us; I used 1 tablespoon of sesame oil, so the rice vinegar, ginger and garlic stood out as an extremely pleasant non-creamy and non-oily salad dressing. The fixings were all things we love, and this fit into my WW plan very nicely. Thanks for posting this recipe, Kumquat the Cat's Friend! Made for Spring 2009 Veg*n Swap, but I will make this often from now on.

I really enjoyed this salad with dinner. I also added in corn and used regular tomatoes from the garden, cut up. Thank you for a healthy salad!